Your Where-to-Watch Guide to Saints Season in #NOLA
Cue the music because… "It's the most wonderful time of the year!" We're not talking about winter holidays– we're talking about Saints season! Every fall, our city comes together in solidarity to hoot and holler like only Who Dats can. Of course, a ticket to the Dome is the ultimate score, but not all of us can make it inside. Luckily, there are plenty of awesome spots throughout the city to cheer on our Saints. Not sure where to go? Luckily, #FrayLife is here to help with our Where to Watch Guide.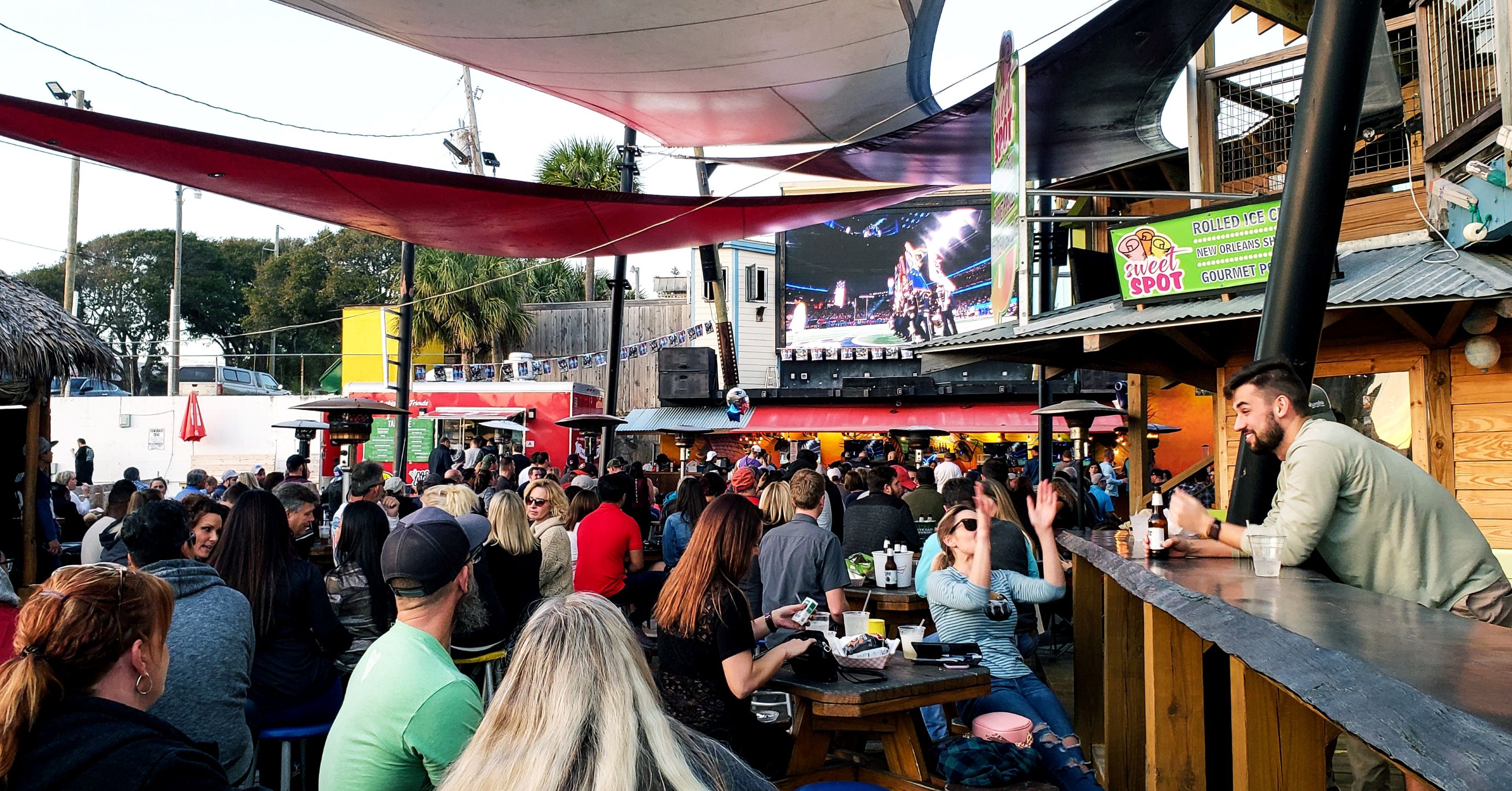 Downtown Area
Walk-Ons Bistreaux & Bar
Founded in 2003 by two former LSU basketball players, Walk-Ons has since been named the #1 Sports Bar in America by ESPN. Drew Brees joined as a co-owner in 2014, and if Drew is a fan, you know it's a great spot to watch the game. The Poydras Street location has a view of the Dome and 150 (!!!) TVs, so no matter where you sit, you'll get a great view. Help yourself with tableside keg taps, classic pub food and Cajun favorites. 
Manning's Sports Bar & Grill
Hoping for a relaxing atmosphere to enjoy the game? Look no further than Manning's, where you can enjoy NOLA-inspired cuisine while kicking back in a plush leather lounger. Enjoy the game on over 30 flat-screen TVs, or if the weather's nice, head out to the patio where you can watch on a mega screen. During time outs, check out owner Archie Manning's memorabilia display. You might remember him from his 10 seasons as QB for the Saints, and you might've heard of his sons, Peyton and Eli. 
American Sports Saloon
Dig into sports-themed eats and drinks while dining on one of the Quarter's largest balconies, and watch the game with a sound system so loud it can only be described as a "stadium experience." If you're looking for a party atmosphere in which to enjoy the game, you'll find it here on Decatur Street. 
Mid City Area
Mid City Yacht Club
Reopened after Katrina in 2007, the Mid City Yacht Club serves up plenty of local favorites including po'boys. They're also known to throw a mean crawfish boil, and you can enjoy the game on 15 different screens inside or on their private patio.
Finn McCool's
Named Gambit Weekly's 'Best Neighborhood Bar' in NOLA, Finn McCool's is the quintessential Irish Pub. Normally, their screens are devoted to soccer, but they make an exception for American football on Sundays. Where better to enjoy both the game and the best pour of Guinness in the city?
Bywater Area
Markey's Bar
Since 1947, Markey's Bar has served plenty of brews and pub food with Louisiana flair (frog legs, anyone?). Watch the game on over a dozen TVs and try a game of shuffleboard or darts in your downtime. This is definitely a spot for regulars— maybe one day you can count yourself amongst them.
Uptown Area
Cooter Brown's
Cooter Brown's has 23 TVs and two drop-down screens for viewing, so every seat has the best view of the game. With over 400 beers to choose from and a full seafood menu, including a well-stocked oyster bar, the hardest part of the night will be deciding what to eat.
Tchoup Yard
This outdoor patio bar features big screens for watching the game and food trucks for hip tailgating. Check out the seemingly endless game day drink specials or indulge in one of their specialty frozen drinks. You can even bring your canine pals as long as they're on a leash!
Metairie Area
Bobby Hebert's Cajun Cannon Restaurant & Bar
Cajun Cannon seems to transport patrons from Metairie to New Orleans with their Cajun-inspired cuisine. It's owned by legendary Saints QB Bobby Hebert and is one of the best places in the country to watch a game. The vast menu of Cajun classics is a huge draw, as is the 'Cannon Burger Challenge' (AKA trying to stomach a seven-patty,  seven-cheese, and seven-topping mammoth of a burger or otherwise paying $50). There are over 30 screens, so you won't miss a second of the game no matter where you are!
Where is your favorite place to watch the boys in black and gold? Share with us in the comments and tag #FrayLife #NOLAFray wherever you end up!
Looking to play sports instead of watch them? Check out our 5 reasons for building a NOLA Fray corporate company team!